VMeter™ Una forma diferente de mezclar…
Yo sigo a lo mio, cada vez que encuentro algún aparato que se sale de lo normal, intento hacerle un hueco en esta web y, precisamente VMeter™, me ha llamado la atención pues con este pequeño aparato, reducimos el hardware a la mínima expresión. la idea es buena, se trata de un Fader tipo Strip, completamente MIDI y que dispone de diversos parámetros que nos permiten configurar los diferentes componentes del software, entre esos parámetros disponemos de Presión, posición, crossfader…combinando varios de estos pequeños "juguetes", podemos controlar fácilmente cualquier programa que soporte MIDI, o al menos, una parte de ellos, por ejemplo la sección de efectos de Traktor.
Lo que esta claro con este pequeño fader multifunción es que el espacio no va a ser un problema, a continuación, tenéis un vídeo en el que podemos ver que tal se desempeña manejando un programa para DJ cono es TorQ DJ, como se puede apreciar, podemos controlar desde parámetros como el volumen de las pistas, a la sección de efectos…¿el problema?, se necesitan unos conocimientos mínimos sobre mapeo MIDI, asignación de canales etc…si nos damos una vuelta por su página web, podemos ver unidades VMeter™, desempeñándose con diversos programas, TorQ, Ableton Live…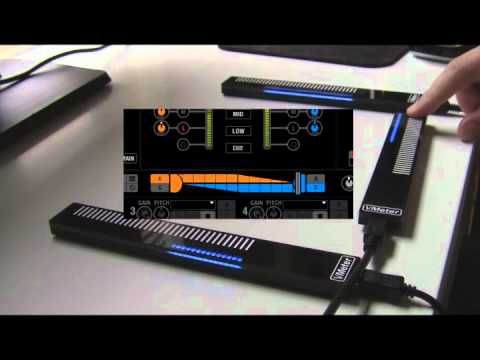 Características
Los LED azules reaccionan con el volumen, el tacto o MIDI. La banda táctil versátil, es en realidad varios controladores en una sola, dándole nuevas formas de "jugar" con los efectos y las pistas.
Multiples controles en cada unidad, desde simple fader de la pista a controlador sofisticado o instrumento virtual.
Las salidas incluyen posición, presión, toque / liberación, encendido / apagado, rueda de pitch…Detalles
La tira táctil es super sensible para reacciones rápidas, incluida la capacidad de ajustar a nuevos niveles.
Blue LED puede actuar como un indicador de volumen.
Un número ilimitado de VMeters puede ser conectado a través de hubs USB.
Totalmente configurable. (Canal MIDI, ctrl # Nota #, etc)
Controlador Nativo MIDI USB – control de cualquier software de música, Win / Mac / Linux.
Firmware basado en LUFA.
English
VMeter™ is a USB MIDI touch strip that provides nuanced musical control and visualization for DJs and other laptop musicians. Out the box, the VMeter will immediately work as a ribbon controller for any music software that supports MIDI on Windows, Mac or Linux. The config utility below is only there to change and store settings (like midi channel). While it's based on a max/msp patch (requires freeMax Runtime), no patching is required, just a few sliders to change settings. After you store the settings, the config utility isn't needed anymore.
The midi channel, controller numbers, types of outputs and much more can all be changed. All of the settings are changeable via MIDI controller messages (see full protocol below), but there's also a configuration utility to make this easy.
Blue LEDs react to volume, touch or MIDI. The versatile touch strip is actually several controllers in one, giving you new ways to "play" effects and tracks.
Multiple controllers in one provide anything from simple track fader to sophisticated virtual instrument controller.
Outputs include position, pressure, touch/release, note on/off, pitch wheel… Details
Super responsive touch strip for fast reactions, including ability to snap to new levels.
Blue LEDs can act like a VU meter, touch tracker, or even MIDI envelopes for animation. Dimmable
Unlimited number of VMeters can be connected through powered USB hubs.
Fully configurable. (MIDI channel, ctrl #, Note #, etc.)
Native USB MIDI controller–control any music software without drivers, Win/Mac/Linux.
Firmware based on  LUFA.