M-Audio TorQ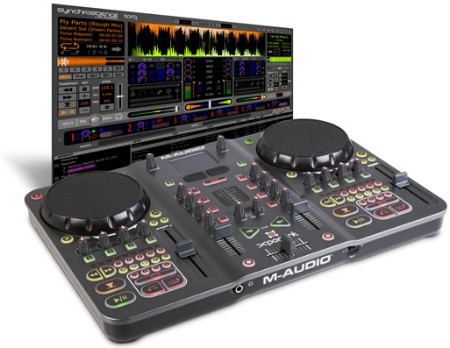 Español:
M-Audio anuncia el software de DJ Torq 1.5. M-Audio Torq 1.5 ofrece opciones aún más creativas a la única estación de trabajo de DJ digital diseñada para combinar la interpretación de DJs en vivo y la producción musical avanzada. Los nuevos rasgos en el software Torq 1.5 incluyen "Tempo Anchors", tempo master, algoritmo de cambio de tempo "zPlane Elastique Time", envío / recepción de reloj MIDI, una nueva barra de herramientas y un buen surtido de mejoras en el flujo de trabajo.
El software de DJ de Torq sitúa a los DJs mucho más allá de la correspondencia de tempos y ritmos y de los crossfades, ofreciendo un montón de opciones creativas en tiempo real, antes no disponibles en la industria. Las nuevas "Tempo Anchors" del software permiten que los usuarios definan una rejilla con los tiempos de la canción, incluso si la canción cambia de tempo. La nueva función de "Tempo Master" asigna una pista que servirá como tiempo master global en Torq, por lo que las muestras con loops, efectos VST y otras prestaciones en tiempo real seguirán estando en perfecta sincronía. Estos nuevos rasgos son mejorados añadiendo la tecnología de compresión / expansión de tiempo "zPlane Elastique Time", un nuevo algoritmo diseñado para estirar pistas musicales completas sin anomalías rítmicas.
Como una estación de trabajo virtual completa, Torq 1.5 permite que los intérpretes incorporen equipos hardware MIDI externos en sus configuraciones de producción de audio. El software Torq 1.5 puede enviar y recibir reloj MIDI para la sincronización total con cajas de ritmos, efectos y otros ordenadores. DJs múltiples pueden conectarse entre sí y compartir el mismo tempo en sus sistemas, mejorando la colaboración entre artistas.
Además, Torq 1.5 incorpora varias mejoras en el interface de usuario. La opción de esconder el mezclador conserva el espacio en pantalla eliminando el mezclador del interface de usuario, y amplía la ventana del navegador de archivos. La función "Browser Preview" permite que los DJs pre-visualicen canciones en sus auriculares antes de cargarlas. Torq 1.5 también muestra un mensaje de advertencia al abandonar el programa o al cargar una canción en un reproductor que ya está reproduciendo otra, a fin de prevenir la interrupción casual durante una interpretación en directo.
Características de Torq 1.5:
· La función "Tempo Anchors" permite el marcaje de las pistas con varios tempos, de forma que los efectos y muestras de Torq sigan los cambios de tempo en la canción.
· Asignación Master Tempo a la pista en reproducción para servir como pista master de tempo para todas las funciones relacionadas con el tempo.
· Tecnología de compresión / expansión de tiempo zPlane Elastique para una sofisticada captura del tempo y alteración del tono.
· Transmite / recibe reloj MIDI con otro hardware / software y fácil conmutación entre DJs.
· La opción "Hide Mixer" conserva un mayor espacio de pantalla.
· Pre-visualiza canciones en los auriculares antes de cargarlas.
· Nuevos botones en la barra de herramientas e indicadores MIDI / tempo.
· "Skip Protection" mantiene al reproducción de la música incluso si el CD salta.
· La función "Key Lock" mantiene el tono constante al ajustar la velocidad de un plato externo.
· Los efectos internos pueden ser reagrupados en cadenas de efectos.
· Los efectos VST pueden sincronizarse al tempo de la pletina en reproducción.
· La función "Auto Gain" captura los niveles de ganancia de las pletinas.
· Mejoras en el flujo de trabajo y en el interface para aumentar la experiencia del usuario.
English:
Torq is a fully equipped DJ software workstation that provides innovative tools and production power to set you apart from everyone else. In addition to essential cueing, beat-matching and mixing, Torq goes beyond all other DJ applications by offering a host of real-time creative options unavailable anywhere else. Unique features like built-in effects processing, ReWire support and a 16-cell sampler let you bring powerful studio processing to your live sets, as well as infuse your studio productions with live energy. Torq software is designed to work seamlessly with select M-Audio DJ hardware, forming a completely integrated system for rock-solid performance hour after hour. Torq 1.5 brings dynamic new additions like Tempo Anchors, Tempo Master, zPlane Elastique time stretching, send/receive MIDI clock, a new toolbar and more.
Free 1.5 Upgrade for New Torq Customers
Customers who purchased and registered a Torq system on or after January 17, 2008 are eligible for a free upgrade to Torq 1.5 software.
Learn more about upgrading to Torq 1.5 DJ software
Get in Sync
Torq 1.5 takes your performance beyond simple beat-matching and crossfading between tracks. Tempo Anchors allow you to set the phase grid exactly on the beats of a song—even if the song changes tempo. Tempo Anchors make it possible for Torq to remove tempo variations from songs so you can easily blend old styles and new. For example, if you have an old '70s funk song that was recorded without a click, Tempo Anchors enable you to perfectly match that song with the steady beat of today's computer-driven productions. You can also assign a track you're spinning to serve as the Tempo Master for everything in Torq, so looped samples and other tempo-based features will automatically match the natural tempo changes in the song. These new features are enhanced by the addition of the zplane élastique time stretching algorithm, a time compression/expansion tool that performs extreme audio warping with exceptional precision and sonic quality—allowing you to keep your entire mix perfectly in key.
Audio Production Centerpiece
On stage and in the studio, Torq 1.5 provides the ideal centerpiece for your audio production setup. Want to hook up your outboard gear? Torq can send and receive MIDI beat clock, allowing total synchronization with drum machines, effects boxes and other computers. Multiple DJs can now connect with each other and share the same tempo across systems—improving collaboration between artists.
Enhanced User Interface
Torq 1.5 software incorporates several highly anticipated new features that improve the user interface and provide new creative options. The Hide Mixer option conserves screen space by removing the mixer from the user interface and expanding the file browser window. The Browser Preview function lets you preview songs in your headphones before loading them into a deck. New file list categories such as "Year" and "Label" help with song organization—you can even hide and rearrange categories for improved searching through your database. Torq 1.5 also displays a warning message if you are exiting the program or loading a song onto a deck that's already playing—preventing accidental set interruption during a live performance.
In addition, many of Torq's preferences have been duplicated as small buttons in the redesigned toolbar. Commonly used features like External Control and AMPutate mode can now be enabled without opening the Preferences dialog. Sync mode, Schaffel mode and the new Skip Protection feature can also be changed on the fly. You can trigger all of these buttons with a compatible MIDI controller like M-Audio's Oxygen 8 v2 or Trigger Finger.
Never Miss a Beat
Torq 1.5 also includes new features designed to enhance the mixing process and give you complete control over your set. Skip Protection for external vinyl control keeps the music playing—even if the needle briefly jumps or skips off the record. True Key Lock keeps the pitch constant when you change speed using external turntable controls or the scratch wheels on Torq Xponent. The new Auto Gain feature compensates for volume differences in songs—smoothing out transitions between tracks with different levels. And the MIDI Soft Takeover feature prevents parameter jumps when using external controllers.
Torq 1.5 also includes a new beat-detection algorithm that analyzes tracks according to Musical Style Preferences. You can select from a long list of styles before analyzing songs—improving the reliability of results. If a song is analyzed improperly, simply change the musical style and re-analyze the track.
Advanced Effects Processing
Torq revolutionized digital DJ performance and production by combining DJ software essentials with a broad assortment of cutting-edge effects. Torq 1.5 takes you even further with new features that improve effects processing and inspire creativity. The built-in effects can now be formed into Effects Chains, allowing more creative options than ever before. For example, you can take the output of a Delay and feed it into a Dual Filter and Reverb before mixing it back into the main outputs (great for dub-style swooshy delays).
Torq 1.5 also supports VST Tempo so external effects can be synchronized to the playing track. The innovative Snapshot feature now includes a powerful Swap function—allowing you to mirror your settings between decks. These advanced features help you create your own style, blurring the line between live DJ performance and advanced music production.
Stay in the Loop
Torq 1.5 stands apart from other digital DJ solutions by delivering advanced looping tools for remixing and mashing up tracks on the fly. The new Pre-Loop feature allows you to loop a section of audio you just passed—using the QuickLoop buttons to capture loops ending at the current position. Smart Mode ensures that you capture loops of musical size. When the Quantize feature is activated, new Loops and Cue points will be added at the nearest 16th note.
Torq's QuickLoop buttons also have a new selectable behavior called Direct Mode, which mimics the behavior of DJ CD player loop buttons. Once a loop is created, the QuickLoop buttons become divisors of the loop length—pressing 2 will halve the current loop, while pressing 1 will return it to its original length.
Easier than Ever
A host of other innovative tools streamline the creative process and improve the user interface. For example, you can clear all effects by holding the shift key and clicking Bypass. It's also easy to unload tracks from a deck—just hold shift and press either F1 or F2. When beat-juggling between decks, Cue Points added to one track are immediately reflected in the other. And when using the browser in max view, you can drag and drop tracks onto the tiny decks located at the top of the screen—without returning to regular view first. With all of these enhancements, Torq 1.5 is more powerful and easier to use than ever before.